Bearings of various types and sizes are used for different applications.
The major applications are as follows:
Automobiles

Railways

Electrical Motors

Electric Fans

Diesel Engines

Pumps

Machine Tools

Textile machinery and

Other heavy industries
Steel Plants

Sugar Plants

Process Plants

Heavy Engineering Industries

Heavy Earth Moving Equipment

Cement Plants

Power Generation Units
The demand for bearings cane be clubbed under following Categories:
A. Original Equipment Manufacturers (OEM) Market
The OEM market for bearing represent the demand arising out of the original vehicle and industrial manufacturers. The demand for the OEM market directly depends upon the growth in user industry. OEM market accounts for 40% of total demand of bearing industry. This market is characterized by requirements of high quality, stringent delivery norms and lower margins.
OEM's have been facing price competition in their own markets, continue to exert price pressure on the local bearing suppliers. The bearing capacity available in the country is in excess of demand, resulting in price reduction. The OEM bearing market is likely to witness better days ahead on account of up swing in automobile industry and manufacturing sector.
B. Replacement Market
OEM demand is mostly generated in Automobile, Machine manufacturer , Plants manufacturers, where in the bearings is used as part of the new equipment or machinery.
Replacement Demand is the after demand where as a part of the maintenance of the machines or rotating machine , the bearings are replaced by new bearings after it is failed as natural life deterioration / wear or tear or due to premature failures and need replacement The replacement market represents the demand arising on account of replacing the used and worn-out bearings. The size of replacement market is dependent on equipment population and frequency of maintenance. Replacement market accounts for 40% of total demand for bearing industry. The margins in this market are relatively higher placed as compared to OEM market.
The replacement market is highly price sensitive and has higher share of unorganized players and cheaper imported bearings. Exhibit4 represent the bearing demand per sector.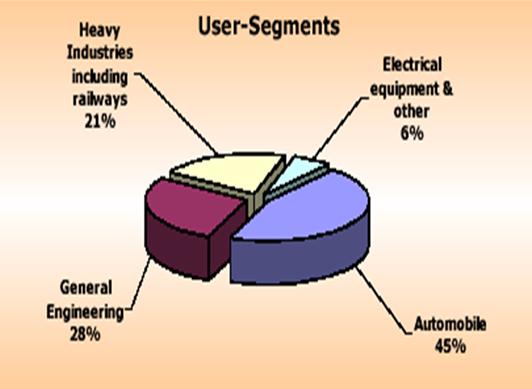 Figure : Bearing Demand Per Sector.
In the last two years, Indian automobile and industrial sectors are facing a increased market and economy growth.
This has led to higher growth in OEM segment and higher growth in replacement demand. The organized players have been concentrating on improving share in the replacement market, which earlier was dominated mostly by the small scale and cottage industries.